The spectra of symbiotic presented by Christian make me draw your attention to two very different symbiotic stars, but just as spectacular as the other one. They are well placed to regular monitoring during the fall and winter 2011-2012.
R Aqr, the evening star.
R Aqr is one of the few symbiotic stars containing a Mira (instead of a normal giant). In different photometric and spectroscopic variations present in the symbiotic stars are added variations due to pulsation of the Mira.
It is currently at minimum brightness, around 11 mag. The brightness will begin to increase
The next maximum is expected around January 15, 2012. At maximum brightness, magnitude is around 6 to 6.5, making it a subject easily accessible to high-resolution spectroscopy.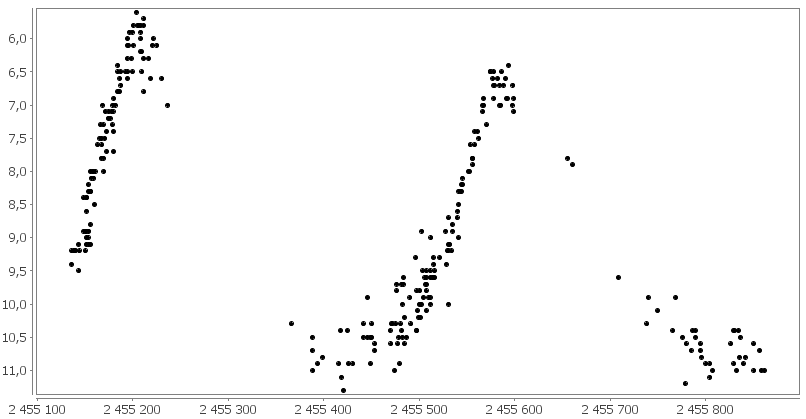 The current spectrum is spectacular, almost that of a planetary nebula superimposed on that of a red giant.
On the spectrum of 23-09-2011, the lines [OIII] are particularly impressive, intensity stronger than that of Ha.

In the coming weeks, will profoundly change the spectrum, with an apparent weakening of emission lines.
Here is a presentation of the evolution of the spectrum from a previous pulse (2009-2010)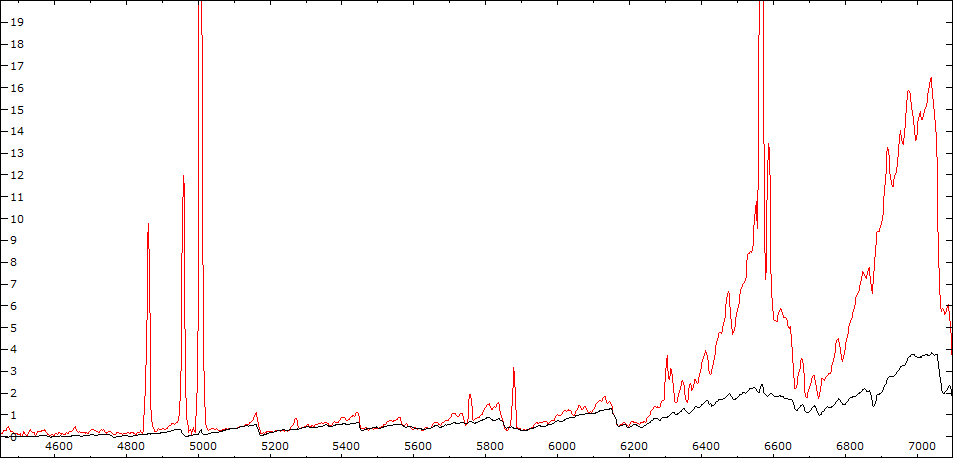 Red : spectrum near minimum - Black : near maximum
Note also the variations in continuum
Surprisingly, there is not, to my knowledge, published results with the evolution of the entire spectrum of a pulse.
The acquisition of a spectrum week would provide a good temporal coverage.
Spectres 2009-2011 :
http://www.astronomie-amateur.fr/feuilles/Spectroscopie/SyS/R%20Aqr.html
Finally, R Aqr may have experienced an episode of type nova in the early second millennium episode that would be recorded in Korean archives.
Next topic : V694 Mon
Les spectres de symbiotiques présentés par Christian m'incitent à attirer votre attention sur deux étoiles symbiotiques fort différentes, mais tout aussi spectaculaires l'une que l'autre. Elles sont fort bien placées pour un suivi régulier durant l'automne et l'hiver 2011-2012.
R Aqr, étoile du soir.
R Aqr est l'un des rares étoiles symbiotiques renfermant une Mira (au lieu d'une géante normale). Au différentes variations photométriques et spectroscopiques présentes dans les étoiles symbiotiques s'ajoutent des variations dues à la pulsation de la Mira.
Elle se situe actuellement au minimum de luminosité, vers mag 11. La luminosité va commencer à augmenter
Le prochain maximum est prévu vers le 15 janvier 2012. Au maximum de luminosité, la magnitude se situe vers 6 à 6.5, ce qui en fait un objet aisément accessible aux spectroscopes de haute résolution.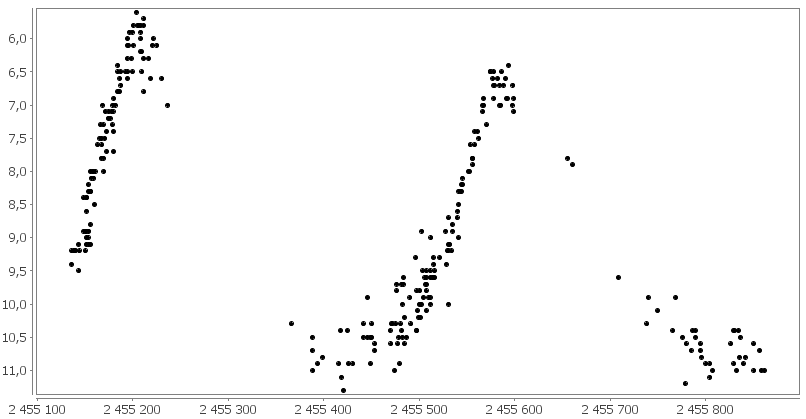 La spectre actuel est spectaculaire, pratiquement celui d'une nébuleuse planétaire se superposant à celui d'une géante rouge.
Sur le spectre du 23-09-2011, les raies [OIII] sont particulièrement impressionnantes, d'intensité plus forte que celle de Ha.

Lors des semaines à venir, le spectre va profondément changer, avec un affaiblissement apparent des raies d'émission.
Voici un présentation de l'évolution du spectre lors d'une précédente pulsation :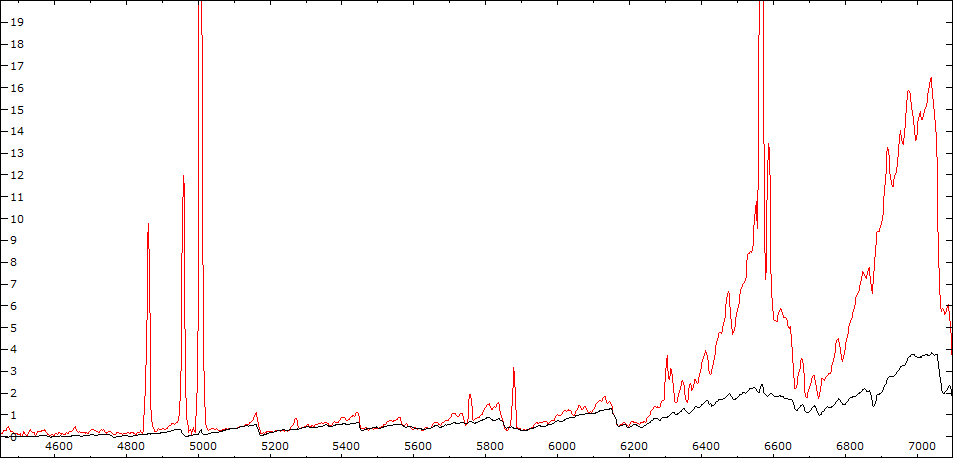 Chose étonnante, il n'existe pas, à ma connaissance, de publication présentant l'évolution du spectre sur l'ensemble d'une pulsation.
Enfin, R Aqr a peut-être connu un épisode de type nova au début du deuxième millénaire, épisode qui serait consigné dans des archives coréennes.
L'acquisition d'un spectre par semaine permettrait d'obtenir une bonne couverture temporelle.
Spectres 2009-2011 :
http://www.astronomie-amateur.fr/feuilles/Spectroscopie/SyS/R%20Aqr.html
Prochain message : V694 Mon
François Teyssier