Hi Robin, thanks for adding this element that I had not considered. It could be a further step to correct continuum shape. I have all the data related to Moon geometry but may be not so simple to find a numeric Moon reflectance curve...
...Na emission in the spectrum in the region below the comet (from the extended coma?)...
I suppose, because there seems to be sodium all around the nucleus up to a large distance. See the 21 march bidimensional spectrum and sky (slit geometry showed in my previous post):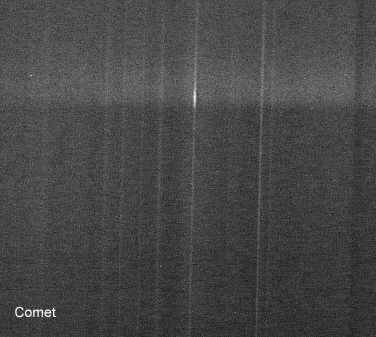 Note field of slit view is much larger on 21 march. In fact I used 520 mm focal length (a 6.2 centimeters refractor) against 1250 mm of 16 march.
Sky spectrum is taken just after comet sets (you see for continuum level > zero on comet spectrum), going back with right ascension. Was impossibile for me in some minutes the comet was visible, take comet and sky spectrum at the same time.
Just a doubt... during OHP 2012 a member of group showed us a particular phenomenon that involve earth atmosphere sodium emission at a precise time. I don't remember when it happens... Would be an incredible coincidence!
As soon as possibile I correlate 2d spectrum taken on 21 march slit view and show the result. It should figure where the maximum emission of sodium is placed with respect to the visible tail.
See you soon,
Paolo