Ken, you write while I answer this (I'm glad you solved):
I'm trying to use Marco&Poulo's spreadsheet for the Miles database...
I can't seem to be able to down load the test.dat files from their nominated site - and the other sites have the database in test.fits format...
Hi Ken, please try to download now from here:
http://quasar.teoth.it/html/varie/MILES_OBS.zip
This is the Excel spreadsheet related to database:
http://quasar.teoth.it/html/varie/SPEC_VIEW_V2.zip
Extract SPEC_VIEW_V2.zip in any place with folder structures option enabled.
SPEC_VIEW_V2 folder should contain: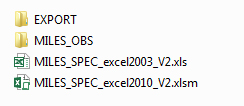 Extract files s0001-s0985 (file extension .test.dat) from MILES_OBS.zip in the empty folder MILES_OBS. Open the spreadsheet (the version you can use).
Martin, NOAO spectra are very useful, thanks for link and spreadsheet. I wonder if also UVES spectra can be suitable for calibration purpose. They are R=80000 spectra so I think should be resampled and filtered with gaussian algorithm before using them. I see there are many in "Field star" section:
http://www.eso.org/sci/observing/tools/ ... tonow.html
It's a pity they have a "hole" around 5800 A, anyway could be interpolated during continuum extraction.
Ciao
Paolo