Sorry, another post about reference stars...
We all observe one or more reference stars in order to calibrate the relative flux of the target spectral profile. I always wondered how reliable are, for this purpose, the spectra which are included in the libraries like Miles, Elodie or Indo-US.
There are cases where spectra of the same star are contained in more than a library, so I tried to compare them. I expected to find more agreement between the spectra, there are indeed several cases in which the continua deviation is not negligible (also considering not or poor reddened starlight - info based on Miles catalog). I don't know why (changes that occur over time?). Follow some examples between Miles and NOAO Indo-US.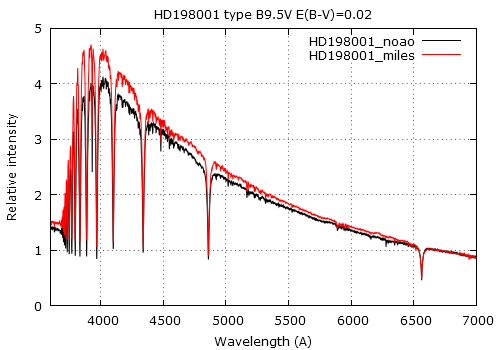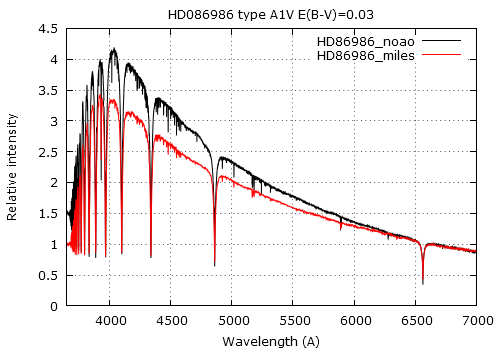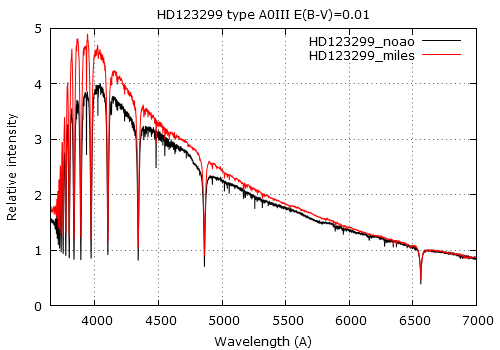 The HD114330 profile matches very well above ~4100A, below this value a large deviation becomes evident: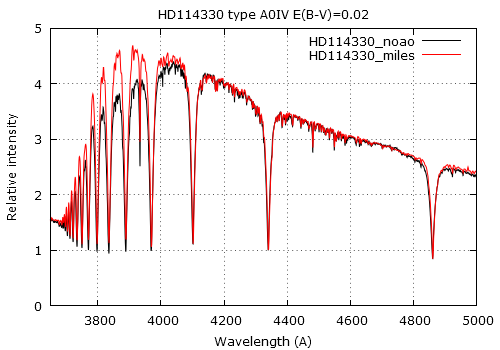 It's known that Indo-US spectra are dereddened (
https://www.noao.edu/cflib/continuum.html
). So, we should avoid any reddened star with this catalog. An example shows the problem (note this NOAO profile come from the original library, it is not present in the ISIS package):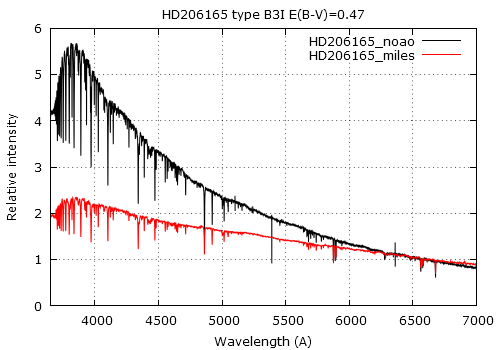 A comparison adding Elodie 3.1 profile. The Elodie profile deviates a lot below 4000A: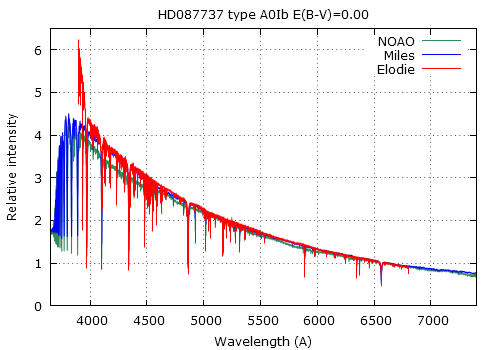 In the HD086986 spectra, Elodie 3.1 profile follows the Miles one until ~4000A, below this value the intensities suddenly rise overcoming all spectra.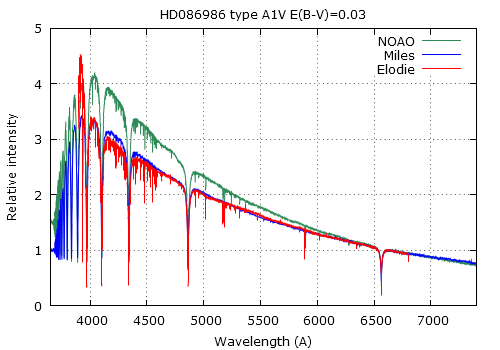 What do you think about?
I've done a cross-checks observing some Miles stars (Lhires III and 150 l/mm grating, spectra cropped from ~4100A) and calibrating other observed spectra with a response curve obtained by a Miles star. A comparison with the library spectra appears to confirm a good agreement (except for one case). But it was a small stars sample and I have not done the same for Elodie or Indo-US profiles. Has anyone done a similar pratical experience?
It seems clear that, to follow for example the spectral evolution of a spectroscopic target, the safest thing is to choose a reference star for all observers as soon as possible (before starting any observation is the best way). Anyway I think it would be very useful to know which star/profile of library spectrum is valid for the relative flux calibration purpose. This should lead to have comparable results regardless of the adopted reference star. Is this a dream or are we too much demanding?
I read about professional spectrophotometric standard stars (some are included in the ISIS package). Unfortunately they are few and a lot of them are very faint for amateur equipments (I think).
Have a clear skies!
Paolo
PS: sorry for my bad English...