Hello everyone!
Marco Leonardi and me developed a new version of the spreadsheet. Accuracy is improved with a new algorithm. Starting from J2000 coordinates, precession is now calculated on the chosen date (the old version internally uses static coordinates for Miles stars set to 2014, year it was published). We also add an option which considers the atmospheric refraction (in standard atmosphere).
The output list contains the "Object type", as categorized in Simbad, an important information to assess whether the selected star is fit for purpose (flux calibration). In fact, several stars exhibit variability which might impact on the spectral continuum.
The first column of the output list, to the left of star name, contains a link to the related Simbad page (a star symbol), which may be useful to get more information or check the star field in the AladinLite window (sometime crowded). The link may not work when using a proxy server or with a firewall that does not allow HTTP requests.
The library profile of the Miles catalog star HD223385 was incorrect and has been fixed (probably an error in the original not dereddened profiles archive "gustavo.fits.tar.gz").
I'd like to thank David Boyd for pointing the wrong profile out to me and suggesting to add a note about the stars variability.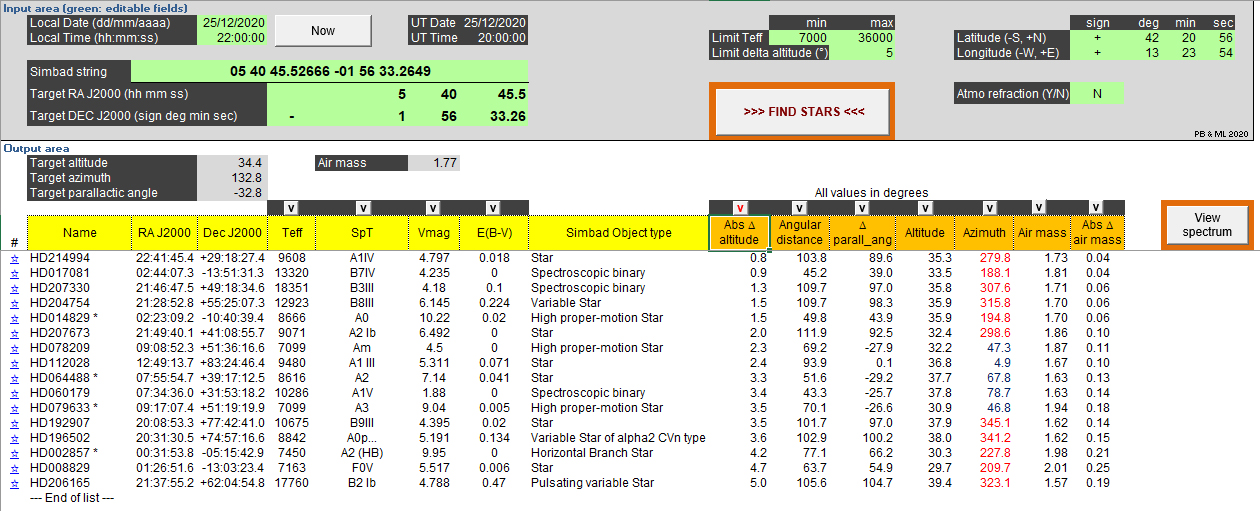 Spreadsheet (64 bit version, 1 Mb):
http://quasar.teoth.it/html/varie/MILES_SEARCH_V1_3.zip
Miles spectral database (34 Mb):
http://quasar.teoth.it/html/varie/MILES_OBS_V2.zip
For installation ad use see the first post in the topic. Please, report any problems, "suspected" stars, bugs, etc...
Best wishes and stay safe!
Paolo